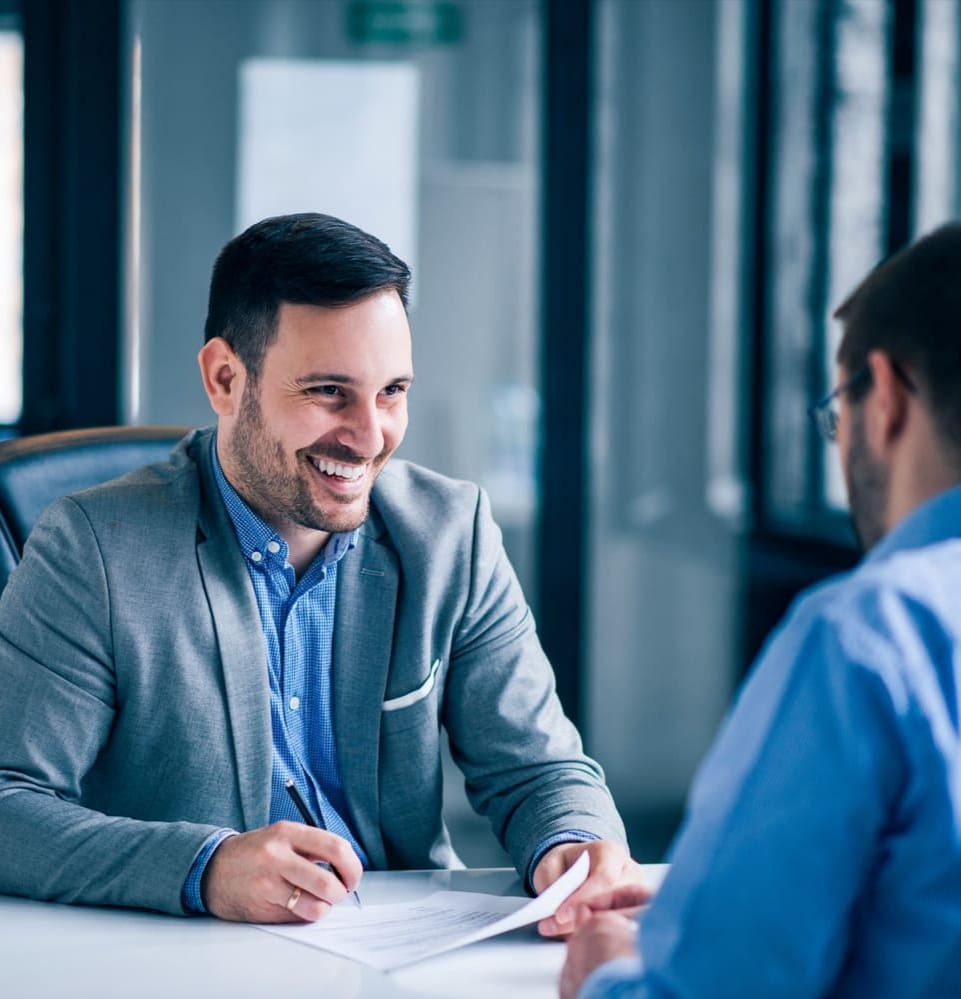 We have developed an excellent network of decision makers in large, medium and smaller sized organisations covering many industrial sectors such as Medical Devices, Analytical Instruments, Industrial and IT/Cloud.
We can consult and assist you in determining how best you can move forward in developing your next career step even if we have no suitable opportunities for you at that time.
Our goal is to understand clearly your experience, career aspirations, current situation and flexibility in order to assist you in identifying and evaluating potential next career steps. If your profile passes to our core sectors we can assist you through the whole recruiting process giving advice, feedback and tips. In short we become your career counsellors, marketing you to targeted organisations to maximise your chances of obtaining your next career step.
"[…] I like very much his high level of professionalism, he is doing his job profoundly but nonetheless quick and I always welcomed his consultation"
"In my experience, most recruiters or talent agencies are fairly superficial and mostly just push your resume. John is not like that. Our introductory call went over 90 minutes […]."
"I would recommend Alexander Steele because I remember him doing a really great job for both his client and also for me as the candidate! […] I appreciate his help very much."
"[…] With my 30 years of professional experience I have worked with various headhunters. John is certainly one of the best. […]."
"The job he offered me helped me unlock my talents as a leader in global companies and accelerated my personal growth in a way I thought was not possible at that time."
"[…] Alexander is a very professional recruiter who is open, persistent and pleasant to work with."
"It was a pleasure working with Alexander […] efficient communication […] helpful […] at each step."
Career Aspiration Consulting
You have arrived at a certain stage in your career – what do you see as possible next steps to enable you to achieve your ultimate career objective? Are your objectives  realistic or are there alternatives?  What companies are you considering? What job responsibilities? What about relocation? We probably have a broader view of possibilities for you than you realise – companies that you would never have considered or even heard of. Since our foundation in 1982 we have studied thousands of career paths, helped hundreds of candidates move forward in their careers, and advised and placed candidates in many companies and countries.
We would be pleased to use our experience and expertise to assist you in achieving your career aspirations. Using our network of decision makers we can possibly open doors to exciting new, unthought of opportunities. Throughout the whole recruitment process we stand by your side, acting as a guide to advise and assist you.
CV Support
The first impression of a candidate is usually your CV and the first quick glance of your CV can often decide if you are passed on to the next stage of evaluation or are rejected.
Your CV is therefore an important part of your job application and should represent you and your abilities as clearly and accurately as possible. It should be as much "you" as your handwriting.
For this reason we do not rewrite your CV into a standard format.  However we are keen to share our expertise of screening CVs daily over many years. Our initial interviews with you are designed to ensure that any relevant skills or experience suitable for the position sought are brought out in the CV. This enables you to design your CV in a form which will open the doors to opportunities that you are keen to pursue with the right balance of content, overview and design. Even if you are not a candidate for one of our active searches. It is our passion that we try to help people to achieve their ambitions and to utilise their skills to the maximum whenever we can. So feel free to approach us for our advice.
Interview Coaching
Did you realise that, according to a Harvard Business Review study, 90% of hires are based solely upon the interview? Indeed 63% of hiring decisions (proceed to next stage or reject) are made within the first 4.3 minutes of an interview (courtesy of SHRM). So not only is the interview probably the most important part of the hiring process – first impressions are critical. In these first few minutes rapport with the interviewer must be established. This is why we want to invest time consulting with you so you can better understand the company, the interviewer, their priorities, their expectations, their interview "style". This gives you the information and confidence which helps you set the basis for a successful interview. In today's environment with more telephone or video interviews how do you prepare yourself, what are the differences in technique? We can help you practice video interviews with our staff to ensure you are equiped for this type of interview.
Salary Negotiation
After a successful interview process the next question is what is the position worth in terms of salary, bonus and other conditions? It is often difficult for a candidate to know what is a realistic "worth" for his new position. This can vary according to your salary history, the location of the position, the salary and benefit structure of the new employer and of course the competitor salary ranges for similar positions. It is usually the case that candidates do not have this information to guide them. A too high a salary demand may jeopardise the offer, a too low an expectation could reduce the new total package. Here is where our years of experience and sector knowledge are invaluable to you. We can set expectations for both candidate and company to ensure that a fair and reasonable offer can be presented and accepted, a win – win situation.